MADE IN THE USA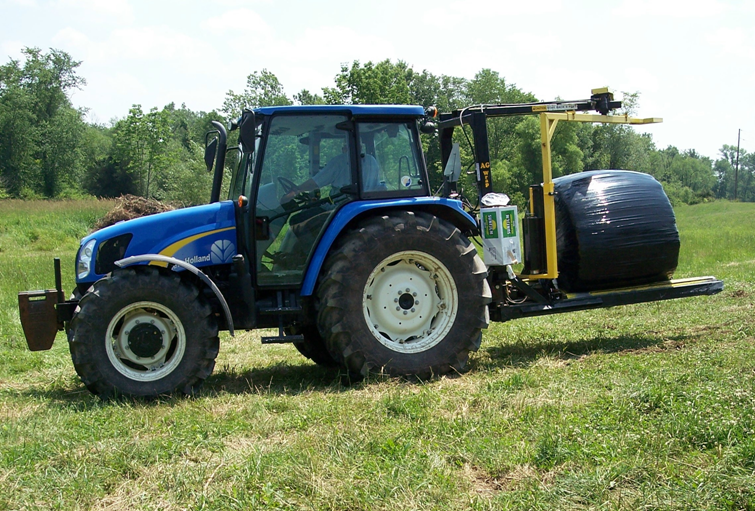 Place cursor over the photo of the tractor and click to be taken to YouTube Channel for videos of the Ag Wrap Bale Wrapper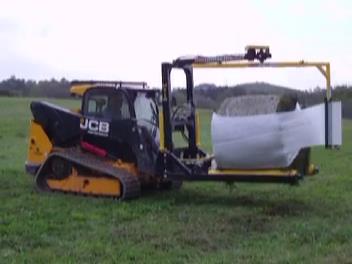 We Highly recommend that if you plan to use the Ag Wrap Bale Wrapper on a Skid Steer, make sure you have 3500# of lifting capacity.
5X5 MODEL Capable of wrapping bales 4 ft. to 5 ft. x 5 ft. bale
(This is the unit most in demand. 95% of the units we sell are 5x5's)
(if your bale measures over 60" you will need to go up to the 6x6 model)
OR 6X6 MODEL Capable of wrapping bales 4 ft. to 6 ft. x 6 ft. bale
(The 6x6 model is most commonly sold to custom wrappers. Just in case they have a customer with larger bales. Also, if someone has the capability of making dry 6' bales)
*SKID STEER ATTACHMENT PLATE NOW AVAILABLE....

skid steer with wrapper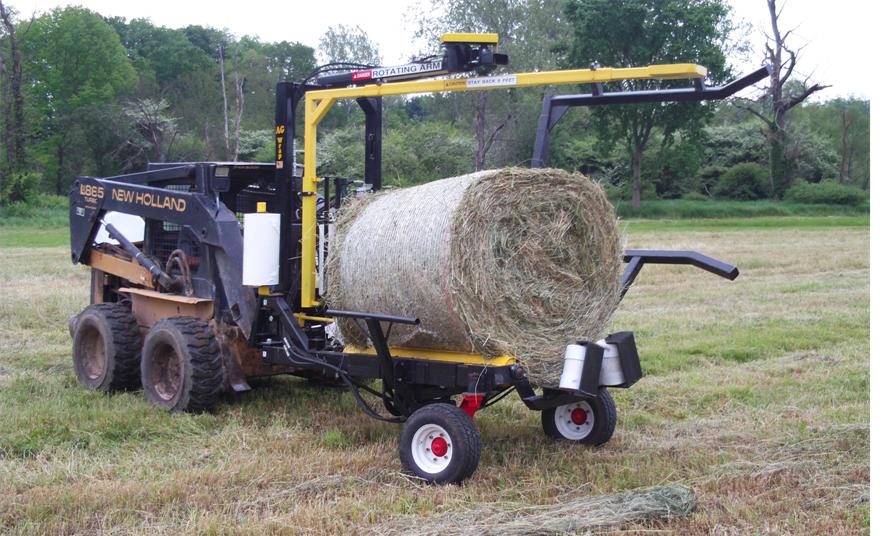 For smaller skid steers and tractors we now offer the Ag Wrap Wheel Assist Bale Wrapper!!
Wrap high moisture baylage in white plastic for excellent quality silage bales!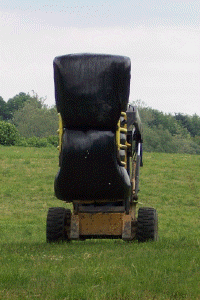 dry hay bales wrapped in black plastic
so you can store them outside without loosing quality.
Can also be used on straw bales.
RECYCLE PROGRAMS NOW AVAILABLE FOR AGRICULTURAL PLASTIC
Check with your local recycling programs to see what is available in your area.
Photos of one of our personal wrappers that has wrapped over well over 9,000 bales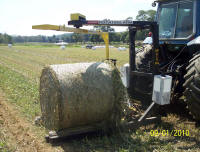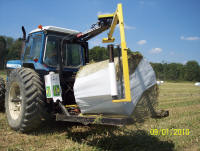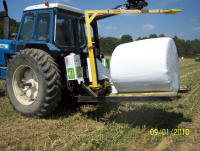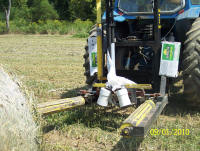 WE HAVE ADDED POSTS TO HAUL 2 EXTRA ROLLS OF PLASTIC WRAP!!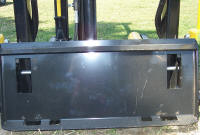 With this quick-tach plate you can use your skid steer to wrap bales
or use the access holes in the plate and hook it to the 3 point of the tractor.
* ONE PERSON OPERATION
* COMPLETELY OPERATED FROM TRACTOR SEAT
* WRAP ON THE MOVE
* PICKS UP AND WRAPS BALES ALL HYDRAULICALLY
* HYDRAULIC REQUIREMENT OF 7 GPM
* TRACTOR WITH 75 HORSEPOWER
ALL PHOTOS CAN BE ENLARGED BY CLICKING ON THEM

Rolls open hydraulically to pick up bale

The arm catches, cuts and holds plastic for easy start of next bale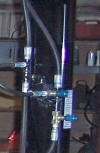 Valve control adjusts the plastic overlap and wrapper speed

30" Pre-stretcher so you can use 20" or 30" plastic wrap on the same unit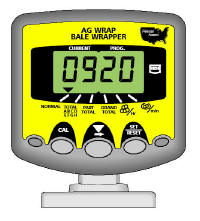 Bale Counter/Lap Counter
Do you have an older Ag Wrap Bale Wrapper and want to update it????
We have the following updates available for older models
all of these are on our all our new wrappers!!!
30" Prestretcher pictured below (enables you to use 20" or 30" plastic wrap)To add this unit you simply unbolt the old unit, slide this onto arm and bolt into place.

Counterbalance pictured below (helps reduce the movement of the wrapper and tractor) Just slide it in and bolt it tightly.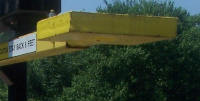 Set of 2 Plastic Roll Holders (enables you to take 2 more rolls of plastic to the field) Bolt in to where you have existing bolts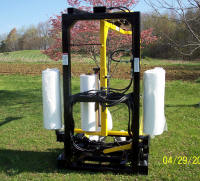 MAKING AND STORING BALAGE

Balage Moisture, Tightness & Wrap Timing

Balage has been used in European countries for over 20 years and much of the technology in successfully making balage is from Europe. Timing of wrapping is very important. After baling, bales should be wrapped within 2 hours at 40-60% moisture to maintain quality, the more oxygen the bales has degrades the quality of the forage. Make bales as tight as possible so oxygen cannot enter bales until wrapped.

We began wrapping in 1991, renting a wrapper to make sure we were happy with results. We now wrap everything including dry hay and straw that's all stored outside.

Wrapping Dry Hay & Straw in Black Plastic

Wrap dry hay and straw with black plastic as white will cause condensation of moisture under the plastic, while bales wrapped in black plastic will pull moisture from under the plastic. Be sure the bale has sweat out before wrapping by putting your hand in the middle of the bale to make sure it is cool before wrapping. Straw can usually be wrapped after combining as the moisture content is much lower.

We prefer individual wrapping as we stack them on end near the area where we are feeding them rather then going out to the field and hauling them back to feeding area.

Temperature and Oxygen Content of Balage

Balage is quickly gaining popularity for storing forages, wet and dry, for excellent feed. Research has shown balage excels as a way of storing forages. Balage will ferment and ensile at a temperature of 104%u02DA-106%u02DA while upright silos ferment and ensile at 116%u02DA-122%u02DA. Bunk silos ferment at 125%u02DA-135%u02DA. The lower the temperature forages can ensile means less oxygen is present to burn off nutrients.

Wrap Time with Ag Wrap Bale Wrappers

The Ag Wrap Bale Wrapper can be used as a 3 pt. or skid steer mounted. Some prefer the wrapper on the skid steer as you are looking ahead to wrap the bales. The average time to pickup and wrap and pull away is 1 ½ to 2 minutes. The operator also has the capability of wrapping on the move.

The Ag Wrap Bale Handler allows you to move, stack and store wrapped bales with out damaging the plastic. Bales stored on end can be stacked 2-3 bales high to save space.

The Ag Wrap Bale Handler can be adapted to fit your loader or skid steer hookup.

The Ag Wrap Bale Wrappers & Bale Handlers are made in Northeast, Ohio

For more information call Ag Nation Products at 1-800-247-3276

AG NATION PRODUCTS WORKS WITH ACCORD FINANCIAL GROUP FOR FINANCING. Click on the logo below to go to the Accord Website and an application for financing.
click on logo to go to Accord

click on computer icon to e-mail for information or wrappers@agnation.com

AG WRAP BALE WRAPPERS - WRAPPING BALES SINCE 1993- AG WRAP BALE WRAPPERS - WRAPPING BALES SINCE 1993 -

1-800-247-3276

Contents of this website cannot be reproduced without written consent of the owner.

IF YOU HAVE ANY QUESTIONS, CALL US AT 1-800-247-3276

Content copyright 2015 All rights reserved.